Release Information
Release Name: Ashampoo.UnInstaller.4.v4.30-TE
Size: 12.69 MB
Date: 07/04/2012
Cracked By: Twisted EndZ
Description
Windows is famous for getting more sluggish the more you use it.
One reason for this is that many programs leave your computer
full of digital garbage when you remove them. Every time you try
out a new program and then uninstall it your system gets more and
more clogged up with redundant program components that just get
in the way and slow things down.
Ashampoo Uninstaller 4 completely eliminates this problem. It
lets you test software with confidence because you can be sure
that no trace of programs you remove are left anywhere on your
system. It does this by comparing compact ôBeforeö and ôAfterö
snapshots that identify exactly where all program components and
settings are located. Uninstalling is completely safe, with
automatic backups and a special Reinstaller for quickly
reinstalling programs with all their settings.
In addition to uninstalling, you can also use UnInstallerÆs
comprehensive ôBefore and Afterö comparisons to monitor and
identify the secret activities of any program û for example
hidden files and Registry keys. Just take a snapshot, run the
application that you want to monitor and then take another
snapshot. UnInstaller then compares the snapshots and shows you
all the changes the program has made anywhere on your system.
Ashampoo UnInstaller 4 is actually a complete Windows maintenance
package with over a dozen powerful tools. It comes with an
advanced hard disk defragmenter, a file wiper, a file undeleter,
an Internet cleaner, a Windows Registry cleaner, a Windows system
restore point manager, file and folder backup and much more. See
further below for a full list.
Features
Ashampoo UnInstaller 4 is now better than ever before, with new
features, improved functionality, two new utility modules and a
new graphical user interface.
Improved UnInstaller
╖ Uninstall performance and accuracy have been further improved,
particularly for ôstagedö program installations. This means
that programs installed in several logged stages, for example
with multiple updates over a period of time, are now removed
much more efficiently.
New Undeleter and File Wiper
╖ A powerful undelete tool for recovering accidentally deleted
files and a wiper for completely removing all traces of
sensitive files from your hard disk have been added to the
UnInstaller toolkit in this version.
Improved Hard Disk Defragmenter
╖ The efficient hard disk defragmentation tool has received a
major update and now includes boot time defragmentation,
automatic ôPro-Activeö defragmentation when the hard disk is
idle and multiple drive defragmentation with optional automatic
computer shutdown when the process is complete.
Improved Internet Cleaner
╖ The Internet Cleaner deletes all traces of Internet surfing
sessions from your computer (all browsers normally save records
of everything you view). The new version supports all the
latest versions of Internet Explorer and Firefox, and now also
allows Firefox users to choose which cookies they want to keep
or delete.
New graphical user interface
╖ In additional to the functional improvements Ashampoo
UnInstaller 4 has been given an attractive new graphical user
interface that makes the program easier and more intuitive to
use.
Installation
Install ashampoo_uninstaller_4_e4.30_sm.exe. Do not launch
Ashampoo UnInstaller 4 yet. Next import the registration.reg
file into your registry, which can be found in the Reg folder.
Make sure you have administator mode if you have problems
importing the regfile. Ashampoo UnInstaller 4 is now fully
registered and activated!
Thats it! Enjoy.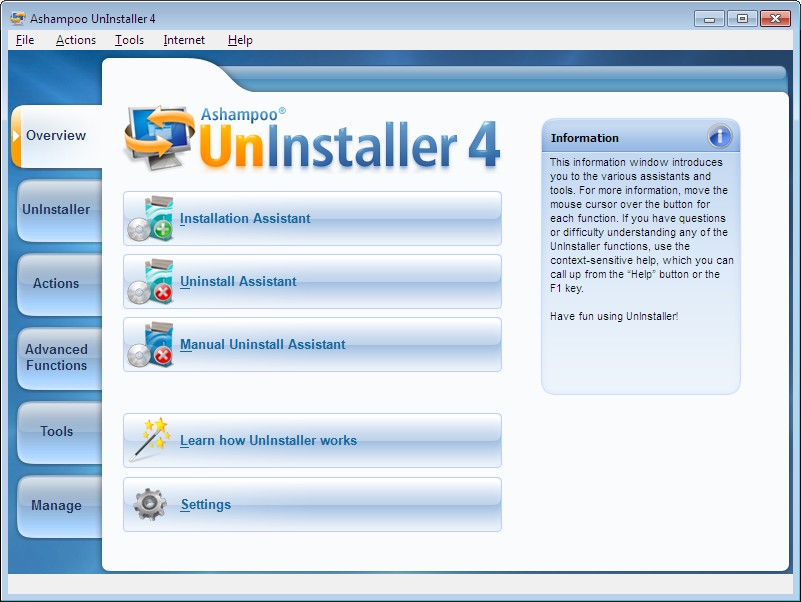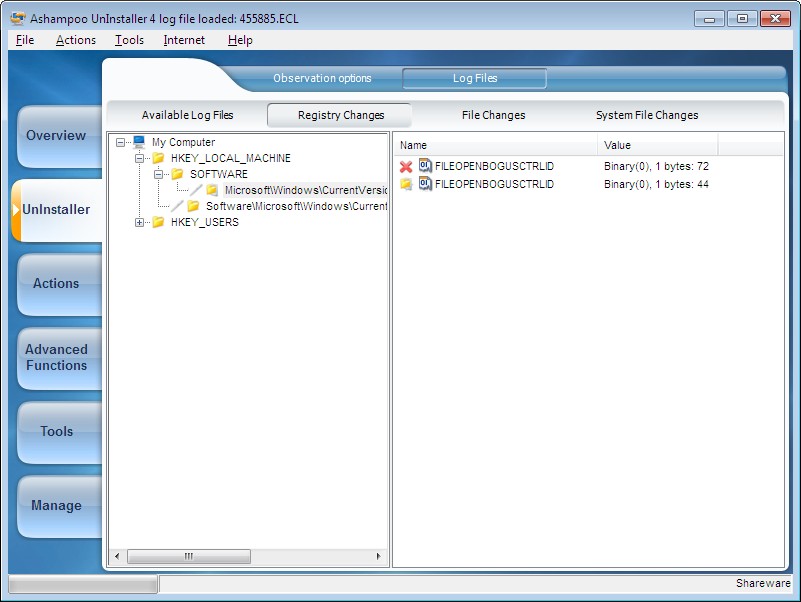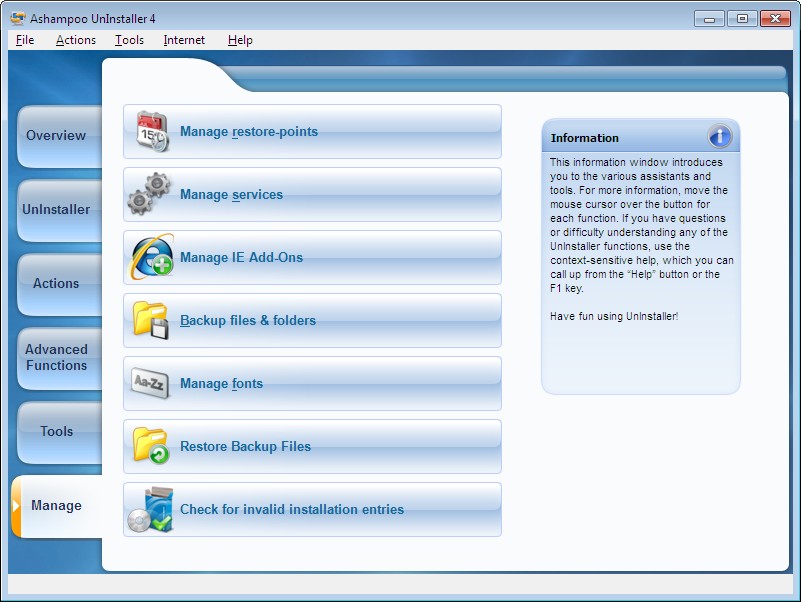 Download Link
Download Link
Download Link
Download Link
depositfiles
Download Link
bitshare
Download Link
rapidgator
Download Link